Inside the Naugy's 'Volunteer Shop,' Thomaston
(Photo by Doug Scott)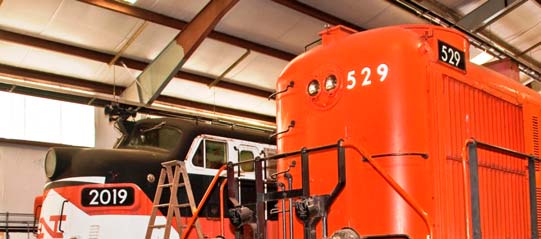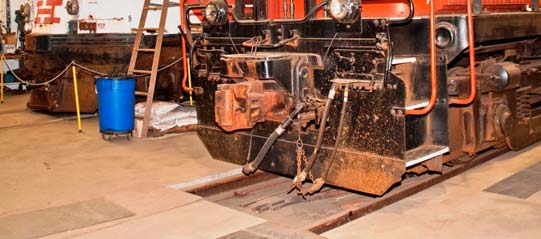 Steam on the "Naugy" Photographers Special
After our train returned to Thomaston, some "public" riders left us. Other riders used the attractive "Comfort Coach" restroom outside the station, while our crew swapped 75 for diesel power.
(When we stood up to detrain at Thomaston, we brushed a layer of cinders off our trousers. Long time since that had happened on a Mass Bay RRE trip.)
With fresh power, again we backed south for a first "public' tour of Volunteer Shop. Bill Sample and his crew divided us into three groups for a walkaround inspection. We saw FL9 2019 and Alco RS3 529 (see Page 14), plus ex-CN coach 5805 in restoration and Louis Edmonds' Sherry Lynette Brannon (ex-Baltimore & Ohio office car 907). Flagg Coal 75 backed in during our tour, so we were able to inspect her closely and talk with the Gramlings.