SOLD OUT!!!
---
Don't miss Mass Bay RRE's Exclusive...
'STEAM in the SNOW VIII'
Photographers' Special Excursion Train
on the Conway Scenic Railroad
(Boston) - North Conway, NH - Notchland & Return Behind 0-6-0 Steam Engine 7470
Saturday, January 3, 2015 ONLY!!
There's just something about crisp winter air that makes a steam engine look great! Join Mass Bay RRE on our eighth annual steam-powered photographers' special excursion on the Conway Scenic Railroad. This unique event features multiple photo stops and photo runbys, starring Conway Scenic's 0-6-0 7470 (built by the Grand Trunk Railroad in 1921).
Steam fans take note: This will be your last opportunity to ride behind and photograph the 7470 before she leaves service for a multi-year inspection and rehabilitation.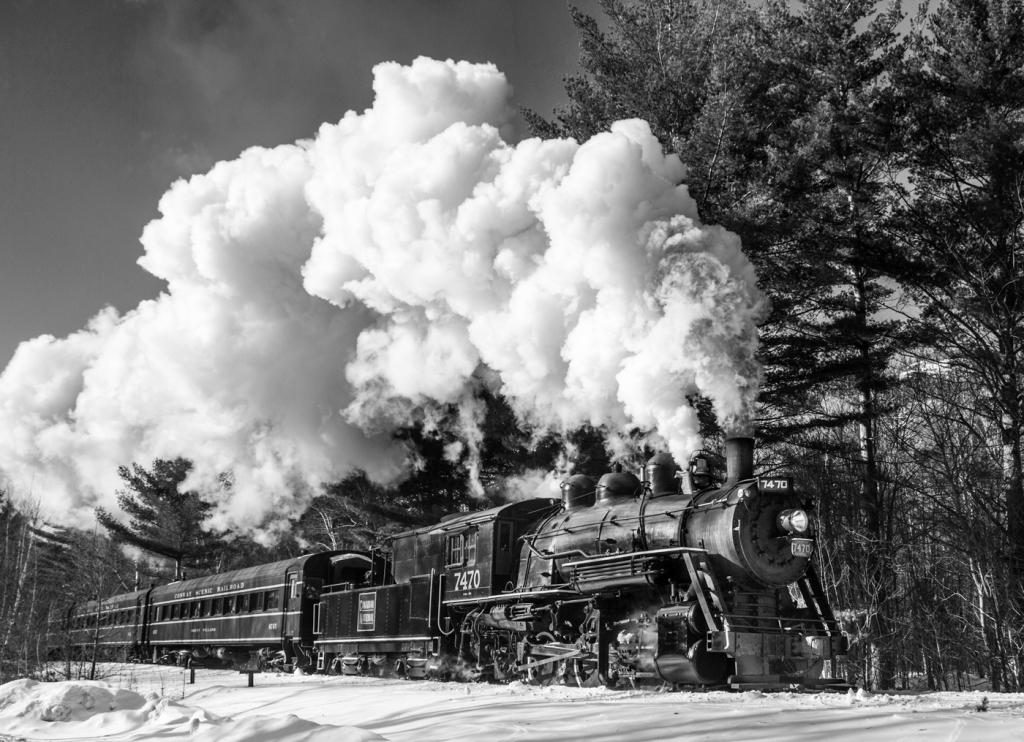 Our excursion will depart from the Conway Scenic's landmark North Conway station promptly at 10:30 AM, heading north and west through Bartlett to Notchland. There we'll reverse direction, with the 7470 leading us back to North Conway. Along the way we'll make a number of stops, some accessible only by train, so passengers can take photographs and video of the train. Our return to North Conway is scheduled for 4:00 PM, including a staged "second arrival" at the station for photos. We'll have the engine "pointed southward" throughout the trip for great photos in the mid-day light.
The train will consist of the dome car Dorthea Mae, the open-platform observation car Gertrude Emma (photo at left), the first-class coach Carroll P. Reed, the Table Car Mount Webster and two Conway Scenic coaches. All cars are heated and rest rooms are available on board. Premium seats in the dome section of the Dorthea Mae and in the parlor-observation car Gertrude Emma , which will be at the rear of our train for the return trip to North Conway, are now completely sold out.
Deluxe reserved seating in the first-class coach Carroll P. Reed (photo, left) or the table car Mount Webster (right) is available to all passengers for a modest additional fare of $20, which includes complimentary snacks & beverages. (Extra fare & advance reservations required for seating in these cars - see fare schedule below.)
Note: Deluxe reserved coach seating is included in the Boston Connection Package (see below) at no additional charge.
Mass Bay RRE members are eligible for discounted fares; Contributing & Sustaining members may be eligible for preferred seating in the first-class coach. Click here for complete details or our member benefits.


Train capacity is limited! Last year's trip (and the three before that) was completely sold out, so we urge you to order tickets early. Seating in the Upper Dome, the Table Car and the Deluxe reserved coach will be assigned by seat number. In all other cars, we will assign seats by car only and will reserve blocks of seats for groups of four or more. Passengers wishing to sit together must order tickets together at the same time.
Box lunches are available for advance purchase, or you may bring your own food. Also, the Conway Scenic snack counter will offer light snack and hot & cold beverage service during our trip.
This trip operates ONE DAY ONLY, rain or shine. Sorry, we cannot honor passes or issue vendor permits. All sales are final and tickets are not refundable. Alcoholic beverages and smoking will not be permitted aboard this train. Tickets will be mailed to you about two weeks prior to the trip; we will send driving directions to the departure point in North Conway with your tickets. These excursions operate using vintage railroad equipment that is not fully handicap-accessible. Please notify us before ordering if special accommodations (handicap seating, etc.) are required.
THE BOSTON CONNECTION PACKAGE

Sit back and leave the driving to us! Our connecting motor coach package offers a guaranteed connection with our train at North Conway. Our rest-room and video-equipped motor coach will leave Boston's South Station at 7:00 AM and the Anderson RTC in Woburn at 7:15 AM. After our train's return there will be a dinner stop at Rafferty's in North Conway before the Coach departs, with a scheduled return to the Boston area around 8:30 PM. The Boston Connection Package includes reserved coach seating.

FARES:

Saturday, January 3, 2015 'Steam in the Snow' Photographers' Special:

Coach Seating (Train only, boarding at North Conway)
Adult MBRRE Member Coach Fare........................................................................... $65*
Adult Non-member Coach Fare...................................................................................$80
Child Coach Fare (ages 12 & under) .........................................................................$40

Boston Connection Package** - includes Deluxe Coach Seating (Boarding at South Station or Anderson RTC Woburn)
Adult MBRRE Member Coach Fare......................................................................... $110*
Adult Non-member Coach Fare.................................................................................$130
Child Coach Fare (ages 12 & under) .........................................................................$80

Premium Seating & Other Options:
Deluxe Reserved Coach Seating (C.P. Reed) Supplemental Fare......................+ $20
Deluxe Reserved Table Car (Mount Webster) Seating Supplemental Fare.......... $20
Upper Dome Seating Supplemental Fare................................................................+ $50 (SOLD OUT!!!)
Gertrude Emma Parlor/Observation Car Supplemental Fare...............................+ $50 (SOLD OUT!!!)
Box Lunch (indicate menu choice when ordering) ....................................................$13

*One discounted seat per member, except as noted in our Member Benefits policy.
**Note: Boston Connection Package includes round-trip motor coach transportation from South Station or Woburn to North Conway and a Reserved Coach seat.

BOX LUNCHES:

The box lunch will consist of a sandwich, chips, snack dessert (granola bar, cookie, etc.), Chef's choice of a side salad, and a beverage. Sandwich choices are as follows:

- Ham & Swiss with Dijon mustrad, lettuce & tomato on Country White Bread.
- Turkey & Provolone Cheese, with mayo, lettuce & tomato on Oatmeal Bread.
- Vegetarian: Cucumbers, tomatoes, sprouts & lettuce in a Whole Wheat Wrap.

ACCOMMODATIONS IN & AROUND NORTH CONWAY:

North Conway is a major winter vacation destination, and there are numerous hotels, inns and B&B's within a reasonable distance of the North Conway depot. For a partial listing of accommodations in the area, we suggest that you visit the Conway Scenic's web site. In addition to those places listed, there are several major chain hotels (Holiday Inn Express, Comfort Inn, etc) in the area.

HOW TO ORDER:

Please use the order form to order your tour ticket and box lunch. Be sure to enclose a self-addressed, stamped business-size envelope for return of your tickets. Full particulars of the tour will be sent with your tickets about two weeks before the trip.

For further information please call our information line at 978-470-2066, or send e-mail to: trips@massbayrre.org.

Orders are accepted by mail or telephone only. Mastercard, Visa & Discover accepted for all orders. For telephone orders please call 978-470-2066. No calls after 8:00 PM Eastern Time, please.

To download a printable copy of the trip flyer and order form, Click Here.

Mass Bay RRE is a non-profit [501(c)(3)] Massachusetts educational corporation.

Page last updated December 3, 2014

<!td width="290" valign="top" bgcolor="burlywood" > <!td width="10" valign="top" bgcolor="burlywood" >