All Aboard for Mass Bay RRE's Exclusive
'Pemigewasset Rocket'
on the Winnipesaukee Scenic Railroad
(Boston) - Meredith, NH - Lakeport - Plymouth - Ashland - Meredith
Saturday, May 11, 2019 ONLY!!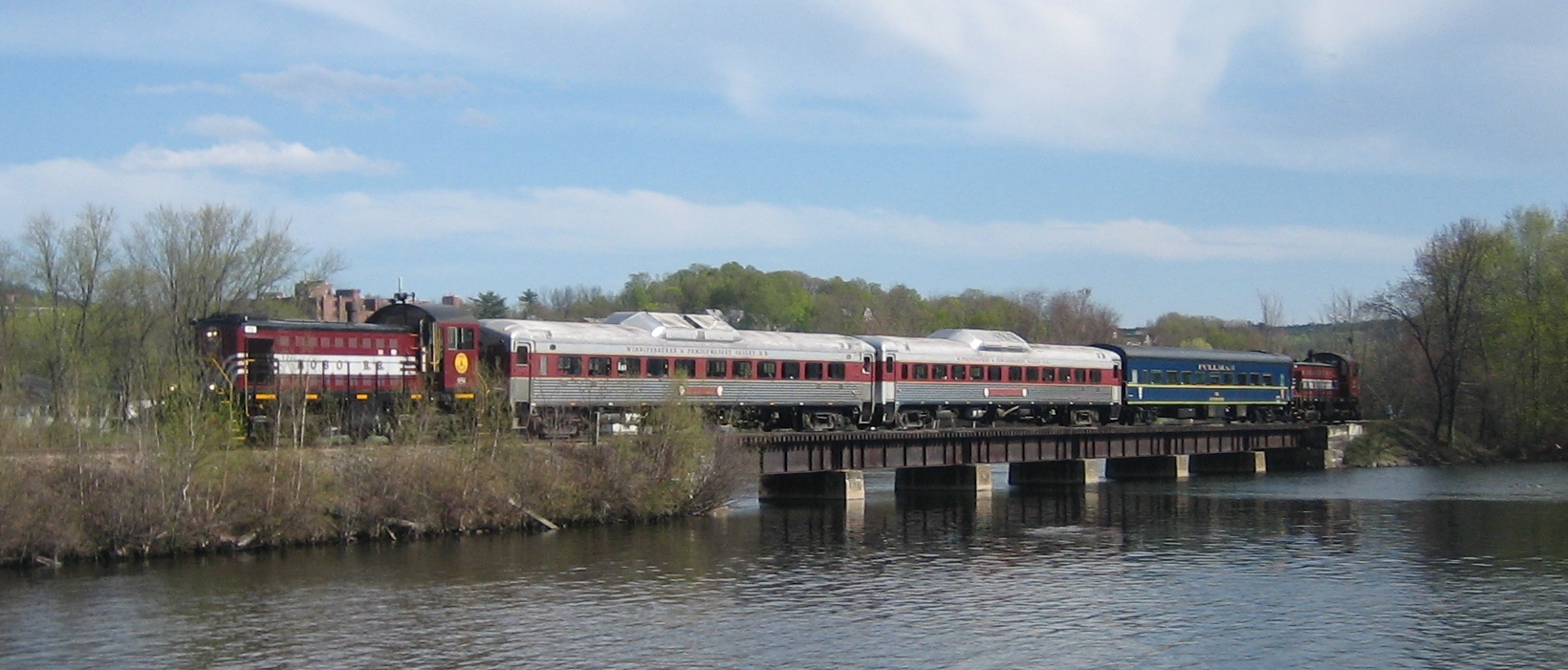 Mass Bay RRE's 2019 train excursion program continues with a return to the rails of the Winnipesaukee Scenic Railroad in the scenic Lakes Region of New Hampshire. Join us for this special round-trip excursion over the former Boston & Maine "White Mountains Division" from Meredith south to Lakeport and then north to Plymouth.
Our trip will originate at 9:30 AM in Meredith, NH at the headquarters of the Winnipesaukee Scenic Railroad. We'll follow a "water level route" through the heart of New Hampshire's scenic Lakes Region to Lakeport, where we'll tour the restored Lakeport Freight House Museum. After a short stopover, our train will head back through Meredith, following the Pemigewasset River north to Plymouth. During our extended stopover there, passengers may attend the Boston & Maine RR Historical Society's spring meeting in the restored Plymouth B&M depot, featuring a presentation by noted rail historian Robert Wllloughby Jones (reservations required - capacity limited), or visit the many shops and restaurants located nearby in Plymouth. We'll then head south, stopping at Ashland for a photo runby and a station tour before returning to Meredith, arriving at approximately 5 PM.
Our train will consist of coaches and locomotives from the Hobo and Winnipesaukee Railroads. For an additional fare passengers may choose comfortable lounge-type seating in the Parlor Car Determination (left). The Parlor Car fare includes complimentary snacks and beverages. Box lunches are available for advance purchase, or you may bring your own lunch or plan to get lunch in Plymouth during our extended stopover.
Train capacity is limited! Passengers wishing to sit together must order tickets together as a group. Mass Bay RRE members will receive discounted fares and preferred coach seating. See our web site for complete details and membership information. (Mass Bay RRE membership is not necessary to ride this trip.)
This trip operates ONE DAY ONLY, rain or shine. All sales are final and tickets are not refundable. Alcoholic beverages and smoking will not be permitted aboard this train. Tickets will be mailed to you in late April. Directions to the departure location in Meredith will be sent with your tickets. Please notify us before ordering if special accommodations (handicap seating, etc.) are required.
THE BOSTON CONNECTION PACKAGE

Sit back and leave the driving to us! Our connecting motor coach package offers a guaranteed connection with our train at Meredith. Our rest-room equipped motorcoach will leave Boston's South Station at 7:00 AM, Anderson RTC in Woburn at 7:15 AM and the Methuen Park & Ride (Pelham St., at I-93 Exit 47) at 7:30 AM. The motorcoach connection is scheduled to arrive back in the Boston area around 7:30 PM.

THE BOSTON & MAINE RR HISTORICAL SOCIETY MEETING with ROBERT WILLOUGHBY JONES

Our train is scheduled to arrive in Plymouth at 1:00 PM, in time for the May meeting of the B&MRRHS in the adjacent Plymouth Depot. Our train will depart Plymouth at 3:15 PM.

Many railfans will know the name Leon Onofri from Robert Willoughby Jones's books. Leon passed away in the 1960s and his family made his entire slide collection available to Robert for publication. In this presentation Robert will show some of Onofri's New England slides not previously published, as well as many colorful images he made while traveling around in the U.S. and Canada of steam and early diesels.

Leon traded slides with rail fans across the country, further broadening his collection, so there a lot of railroads represented in early Kodachrome images. One of the highlights is several wonderful shots of Milwaukee Road steam in the orange and maroon scheme. Leon left a huge collection of electric traction photos, and Robert will present a few these for variety.

Robert will also show some of his own MBTA and Amtrak cab-ride shots made in recent times, depending on the time available. He asks that all be eagle-eyed for details and facts about the afternoon's photos that you may wish to share.

Unfortunately, the capacity of the meeting room at the Plymouth Depot is limited, and we need to reserve space for the B&MRRHS's regular attendees who will not arrive by train. Although there is no charge for this event, train passengers who wish to attend the Robert Willoughby Jones program must reserve space when ordering their train tickets. Passengers who have not made an advance reservation will be admitted to the program only if space is available after seating those passengers with reservations. As of April 20, our allocation of reserved seats has been exhausted.

FARES:

Saturday, May 11, 2019 'Pemigewasset Rocket' Train Excursion:

Coach Seating (Train only, boarding at Meredith, NH)
Adult MBRRE Member Coach Fare........................................................................... $69*
Adult Non-member Coach Fare...................................................................................$79
Child Coach Fare (ages 18 & under) .........................................................................$39

Boston Connection Package** (Boarding at South Station, Anderson RTC Woburn, or Methuen Park & Ride)
Adult MBRRE Member Coach Fare......................................................................... $114*
Adult Non-member Coach Fare.................................................................................$129
Youth Coach Fare (ages 18 & under) .........................................................................$79

Premium Seating & Other Options:
Determination Parlor Car Supplemental Fare (add to coach fare).......................+ $80 Call!
Box Lunch (indicate sandwich choice when ordering) ..............................................$14

*One discounted seat per member, except as noted in our Member Benefits policy.
**Note: Boston Connection Package includes round-trip rail fare and motor coach transportation from South Station, Woburn or Methuen to Meredith.

BOX LUNCHES:

The box lunch will consist of a sandwich, chips, dessert & bottled water. Sandwich choices are as follows:

- Roast Beef.
- Turkey.
- Vegetarian.

HOW TO ORDER:

ORDER ON LINE! 'PEMIGEWASSET ROCKET' ON-LINE ORDER FORM Pay with PayPal or with your Visa, MasterCard, American Express or Discover card using our secure on-line system.

MAIL ORDER: Download a printable copy of the Trip Flyer and Order Form and mail it with your payment to: Mass Bay RRE, P.O. Box 4245, Andover, MA 01810-0814. Make checks payable to "Mass Bay RRE." Please enclose a self-addressed, stamped business-size envelope for return of your tickets. If paying by credit/debit card, be sure to include complete card number, card billing address, expiration date and CVC Code (3 digits on back of card, 4 digits on front of American Express cards). Please note that for mail orders, checks will be deposited shortly before your tickets are mailed to you in late April.

BY TELEPHONE: Telephone orders are accepted at 978-470-2066, Monday through Friday from 9:00 AM to 7:00 PM. We accept Visa, MasterCard, American Express and Discover cards.

Full particulars of the tour and directions to the boarding locations will be sent with your tickets about seven to ten days before the trip. For further information please call our information line at 978-470-2066, or send e-mail to: trips@massbayrre.org.

Mass Bay RRE is a non-profit [501(c)(3)] Massachusetts educational corporation.

Page updated April 20, 2019

<!td width="290" valign="top" bgcolor="burlywood" > <!td width="10" valign="top" bgcolor="burlywood" >