Don't miss this unique rail adventure - only from Mass Bay RRE!
'A Date with Millie '
on the Conway Scenic Railroad
North Conway, NH to Redstone (Saco River bridge), Frankenstein Trestle & Return with RDC-1 #23 "Millie"
Second Section added due to popular demand - Sunday, June 10, 2018!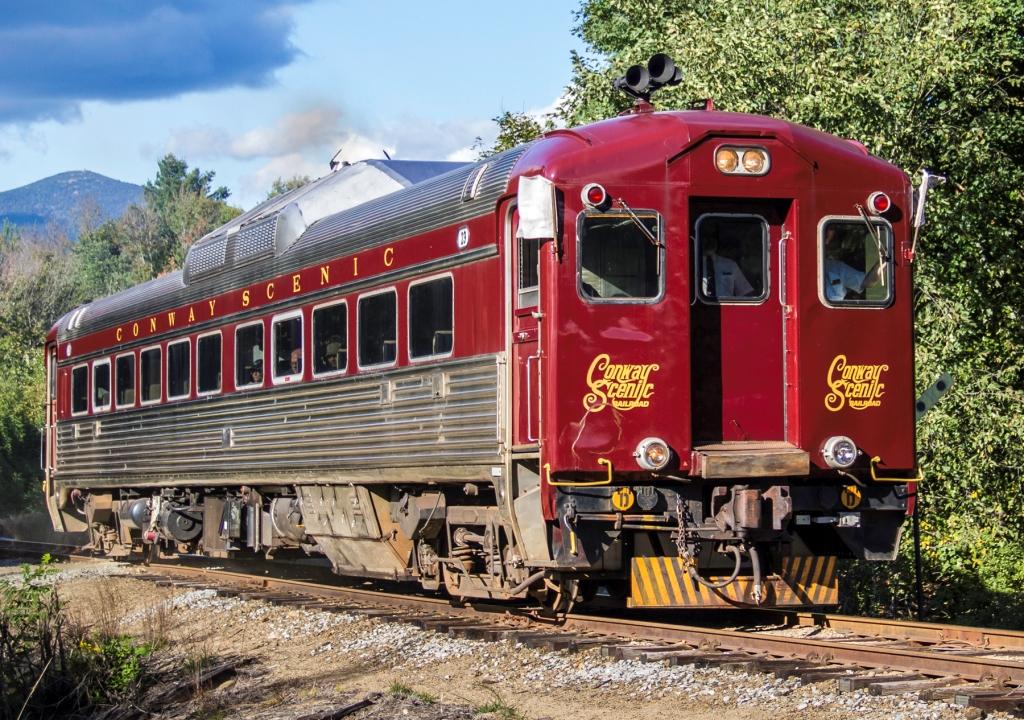 Join Mass Bay Railroad Enthusiasts for a photo special train excursion on the Conway Scenic Railroad, including all operable trackage of the "Redstone Branch" and a ride over the famed Frankenstein Trestle.
We'll depart from the landmark CSRR North Conway station at 11:00 AM. We'll start by heading north to Mountain Junction, where we'll reverse direction and head east on the former Maine Central Mountain Division track, passing scenic Pudding Pond on our way to the Saco River bridge, including a mile of newly-restored track on the ex-Maine Central Mountain Division.
After a photo stop at the end of the operable track at the Saco River, we reverse direction again and return to Mountain Junction, where a meet with Conway Scenic's morning Bartlett train may provide another photo opportunity. We'll continue west through Bartlett and Notchland to the historic Frankenstein Trestle, where we'll have a photo opportunity from a vantage point at the west end of the trestle. We'll then head back to North Conway for a scheduled arrival at approximately 4:00 PM. Photo stops and runbys are planned throughout the day as time and operating conditions allow.
All seats are reserved and assigned in advance. Passengers wishing to sit together should order tickets together as a group. This special event is open to the public, but preference in ordering will be given to members of Mass Bay RRE and their guests. Train capacity is limited to just 84 seats! All seating is reserved and will be assigned in advance. There will be no snack or beverage service aboard "Millie" for this trip. Box lunches are available for advance purchase, or you may bring your own food. There is NO Boston motorcoach connection for Sunday's excursion.
This trip operates ONE DAY ONLY, rain or shine. All sales are final and tickets are not refundable. Alcoholic beverages and smoking will not be permitted aboard this train. Tickets will be mailed to you about 10 days prior to the trip; we will send driving directions to the departure point in North Conway with your tickets. Special discounted fares are available for Mass Bay RRE members only. Please notify us before ordering if special accommodations (handicap seating, etc.) are required.
FARES:
Sunday, June 10, 2018 'A Date with Millie' Excursion Train:

Coach Seating (Train only, departing from North Conway)
Mass Bay RRE Member Coach Fare......................................................................... $55*
Non-member Coach Fare............................................................................................ $65

Box lunch (choice of Turkey & Provolone, Ham & Swiss, or Hummus Wrap)....$15
*One discounted seat per Mass Bay RRE member, except as noted in our Member Benefits policy.
Telephone orders are accepted at 978-470-2066 between 9:00 AM and 7:00 PM M-F with Visa, MasterCard, American Express or Discover.
HOW TO ORDER
NEW!! ORDER ON LINE! DATE WITH MILLIE ON-LINE ORDER FORM Pay with Visa, MasterCard, American Express or Discover using our secure on-line system powered by Formsite and PayPal.
MAIL ORDER: Download a printable copy of the Trip Flyer and Order Form and mail it with your payment to: Mass Bay RRE, P.O. Box 4245, Andover, MA 01810-0814. Make checks payable to "Mass Bay RRE." Please enclose a self-addressed, stamped business-size envelope for return of your tickets. If paying by credit/debit card, be sure to include complete card number, card billing address, expiration date and CVC Code (3 digits on back of card, 4 digits on front of American Express cards). Please note that for mail and phone orders, cards will be charged shortly before your tickets are mailed to you in Late May.
BY TELEPHONE: Telephone orders are accepted at 978-470-2066, Monday through Friday from 9:00 AM to 7:00 PM. We accept Visa, MasterCard, American Express and Discover cards.
Full particulars of the tour and directions to the boarding locations will be sent with your tickets about seven to ten days before the trip. For further information please call our information line at 978-470-2066, or send e-mail to: trips@massbayrre.org.
Mass Bay RRE is a non-profit [501(c)(3)] Massachusetts educational corporation.
Site maintenance by Members of Mass Bay RRE.
Page updated April 29, 2018