<!td width="10" valign="top" bgcolor="burlywood" ><!/td>
<!blockquote>
BREAKING NEWS:
'Fall Circle Tour' on the Providence & Worcester Railroad - Saturday October 18


Tickets now on sale -- Complete trip details

HERE
Still more new Member Benefits partners announced:
Discounted admission at over 15 New England Tourist Railroads & Museums.
For complete details see our Member Benefits Page

Transportation notices updated 9-12-2014: Download
Application period opens for 2015 H. Albert Webb Memorial RR Preservation Award.
Download Award Application
---
Welcome Aboard!! Whether your interest in railroading centers on rail travel, photography, history, models or just a love of trains,
Mass Bay RRE may be for you!
<!hr width="40%" align="center" />

Massachesetts Bay Railroad Enthusiasts is a non-profit [501(c)(3)] educational corporation, organized for the promotion of public interest and understanding of railroads. In Mass Bay RRE you'll find amateur and professional railroaders who share your enthusiasm for the rails, and are quite willing to share their experiences with you.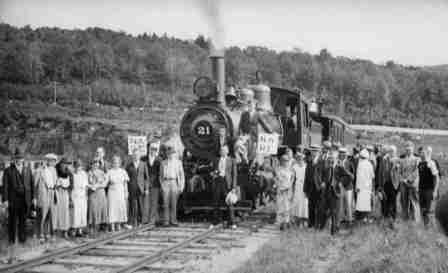 Massachusetts Bay Railroad Enthusiasts, Inc. traces its beginnings to 1934, when our founders sponsored what has been called the first "railfan trip" in the United States on the now-abandoned Hoosac Tunnel & Wilmington Railroad. Since then, we have sponsored hundreds of railfan excursions, many of them over "freight only" tracks. Our trips have covered almost every past or present New England rail route.
Today, 80 years after that "first fantrip", Mass Bay RRE continues to organize specially-chartered excursion trains throughout New England.
See our Membership Page for information about Mass Bay RRE membership and a membership application. Mass Bay RRE members receive our monthly newsletter, the Callboy, which features a compilation of railroad industry news, as well as information on all upcoming Mass Bay RRE train excursions, programs and activities. Members also receive discounted fares and/or preferred seating for most Mass Bay RRE train excursions and events. And, some smaller-capacity trips and events are advertised only to our members. New for this year: Use your Mass Bay RRE membership card for discounted admission to selected New England tourist railroads and museums. See our member benefits policy for a complete listing of member benefits.
See also Frequently Asked Questions for more information about Mass Bay RRE.
---
UPCOMING TRAIN EXCURSIONS:
See Excursions Page for details on all excursions.
Saturday, October 18: P&W 'Fall Circle Tour' excursion Worcester - Providence - Groton CT - Norwich - Worcester. Tickets now on Sale!
---
THIRD THURSDAY PROGRAM MEETINGS:
See Meetings Page for schedule and complete details of all programs.

Programs including railroad industry experts, tour experiences, railroad technology, classic rail-related films, and much more! (NOTE: Mass Bay RRE's Program Meetings are held at the Union Church in Waban, 14 Collins Road, Newton, MA, starting at 8:00 PM unless otherwise noted. Please read all announcements carefully.)
Join us for an informal "Social Hour" with light refreshments starting at 7:00 PM before every Third Thursday meeting in Waban!
Thursday, August 21, 8:00 PM: 'The CNE Railway, New England's Link to The West' with Bernie Rudberg.
Thursday, September 18, 8:00 PM: The Boston Globe's Doug Most discusses 'The Race Underground,' the saga of building the first subways in Boston & New York.
Mass Bay RRE's Annual Meeting and election of officers will be held at 7:30 PM, before the program meeting.
Thursday, October 16, 8:00 PM: 'South Coast Rail Project update' with Project Manager Jean Fox.
---
FIRST TUESDAY SOCIAL MEETINGS:
See Meetings Page for detailed schedule.

Newsletter Mailing; Informal Member Slide or Video Programs; Board Meetings. Held at the Union Church in Waban, 14 Collins Road, Newton, MA, starting at 7:00 PM.
---
TOURS & EVENTS:
See Excursions Page for more details. <!/span> <! See > <!a href="events.htm#other"> <!EXCURSIONS PAGE> <!/a> <! for details.> <!/p> <!p> <!em> <!strong> <!img src="DiscoveRailLogo.JPG" alt="DiscoveRail Logo" width="127" height="82" hspace="10" vspace="5" align="right" /> <!Saturday, April 17, 2010, 10:00 AM to 4:00 PM: > <!/strong> <!/em> <!span class="style9"> <!DISCOVERAIL> <!/span> <!,> <! our annual spring exposition of New England railroading, featuring New England's many tourist railroads and railroad museums. On the main concourse at Boston's South Station. > <!a href="DiscoveRail2010.pdf"> <!DiscoveRail Details> <!/a> <!/p>
---
OTHER INFORMATION and NON-MASS BAY RRE ACTIVITIES:
See the DiscoveRail Page for tourist railroad schedules, railroad-related museum hours, and special events such as excursions and shows. These announcements also appear in our monthly newsmagazine, The Callboy. (Use browser "Back" button to return to home page.)
See the Membership Page for information on how to Join Mass Bay RRE and a printable Application Form. <!/span>

<!span style="font-weight: bold"> Send an Email to Mass Bay RRE using the links on Contact Us Page.
See Other Divisions Page for information on other chapters of The Railroad Enthusiasts. For local RRE membership information, contact one of these Divisions near you. <!/span>
The Rail Links Page contains links to the sites of operating railroads, other railfan organizations, railroad museums, preservation groups, points of interest, and more.
---
MASS BAY RRE OFFICERS & DIRECTORS:
President: David W. Brown
Vice President: Alan B. Butler
Secretary: William Crawford
Treasurer: Charles W. Jack

Directors: David J. Astorian, Steven Butterworth, Victor J. Campbell, W. Thomas Chase, John W. Ehrlich, Thomas R. Engel, Ralph S. Hawkins, Loring M. Lawrence, Robert S. Popovac, Everett Reynolds, Sue Waldron Sample

<!/blockquote>
<!font size="2"> <!p align="center"> Site maintenance by members of Mass Bay RRE.

Page updated September 12, 2014
Join the Mass Bay RRE Email list! Enter your Email address below:

For Email Marketing you can trust
We send notices of all our Trips and Events to everyone on our email list. Mass Bay RRE membership is not required!


The H. Albert Webb Memorial Railroad Preservation Award
Shore Line Trolley Museum receives 2014
H. Albert Webb Award
Mass Bay RRE member Leigh Webb created the H. Albert Webb Memorial Award in 2000 to recognize his father's love for New England railroading. Mass Bay RRE acts as Mr. Webb's agent in soliciting applications for the award, reviewing the completed applications, and administering the grants as they are used.
The Branford Electric Railway Association of East Haven, Connecticut, better known as the Shore Line Trolley Museum, is the recipient of the 2014 H. Albert Webb Memorial Railroad Preservation Award. The $10,000 grant associated with the award will support rehabilitation of four traction motors in Union Street Railway RPO Car 302, which was undergoing a complete restoration prior to August 2011, when the storm surge from Hurricane Irene left the car's trucks partially submerged in muddy salt water, rendering the traction motors nonfunctional. The Award funds will leverage additional funding from FEMA necessary to complete the project, an essential part of BERA's larger Hurricane Motor Repair Program.
2015 Award Applications
Applications for the 2015 H. Albert Webb Memorial Railroad Preservation Award are now being accepted . Nonprofit, tax-exempt [Internal Revenue Code 501(c)(3)] organizations that preserve historically significant railroad equipment, structures or information from New England railroads are welcome to apply for the award, whether or not they are based in New England. The successful applicant will receive a single $10,000 grant.



View a complete description of the H. Albert Webb Memorial Railroad Preservation Award and download an application.

Mass Bay RRE Excursion DVDs are now available. These are an ideal gift for your favorite railfan...or for yourself!
Videos Available:
Steam in the Snow 1/5/2008
Berkshire Flyer 5/17/2008
Granite City Extra 4/4/2009 (New!!)
The Capital Limited 5/2/2009 (New!!)
Housatonic Flyer 5/16/2009 (New!!)
The Griffins Local 7/18/2009

(New!

!)

DVD Description & Order Form

See Pictures of Recent
Mass Bay RRE Excursions:


<!TD WIDTH="36" VALIGN="TOP" bgcolor="beige"> <!/TD>